"Adventures in the Elements" is the twelfth episode in the first season of The Owl House.
Synopsis
Luz needs to learn a new spell, so Eda takes her to the most magical place on the island to train.[3]
Plot
For a full plot of "Adventures in the Elements", click here.
Transcript
For a full transcript of "Adventures in the Elements", click here.
Cast
Additional voices
Title in other languages
| Language | Title | Translation |
| --- | --- | --- |
| French | En quête de nouveaux sorts | Looking for new spells |
| Dutch | Elementaire avonturen | Elemental Adventures |
| Vietnamese | cuộc phiêu lưu trong các yếu tố | Adventures in the Elements |
Allusions
Star Wars: The Slitherbeast has similarities to the Wampa Ice Creature in that it hangs its prey in its lair for storage.
Metal Gear Solid: A Solid Snake dakimakura is part of Eda's trash pile.
Doug and/or Rocko's Modern Life: in the pile of human artifacts Eda brings at the start is a blue top with purple imprints on it. They are flower-shaped (5 or 6 petals) which is unique, however the same color scheme was used by Patti Mayonnaise (purple circles) in 1991, then Rocko Rama (purple triangles) in 1993.
Edits
TBA
Errors
Principal Bump is misspelled as "Principle Bump" on the Hexside brochure.
In the panning shot before Eda and Luz return home, the door of the Owl House is closed and there isn't any sign of King's drawing on the door, whereas, in the next scene of Hooty and King, the door is open.
When Amity flusters over Luz finding her drawing, the right part of her hair is over her right ear instead of behind.
When Luz is explaining how she has to go, her palm appears red.
When Amity is explaining about the baby class, the outline of her chin doubles from the frame before.
Trivia
The episode reveals that beginner witches have to take a placement exam to determine the class level at Hexside. Minimum requirements are two spells and an understanding of basic runes. Failing this exam will place the witch in kindergarten.
This is the first episode to air in another country before it airs in the United States. It airs in Turkey as the 11th episode of the show.
When Luz got jump scared by Edric and Emira, the 12th code is revealed on the shop sign, where it is cracked into "C-U-R-S" and translated into "Curse".
Compared to episode 1, the door leading to the human realm is still the same location (abandoned house), where Luz tried to chased down Owlbert.
Though they were using the same training wand and casting the same fireball spell, Amity's fireballs were magenta while Luz' were yellow-orange which matched their respective spell circles.
Although this episode premiered in Turkey in 2020, it was produced in 2019 according to the credits.
Luz's jacket is made from Eda's hair.[4]
Series continuity
Character revelations
After Eda told her housemates to guess the day, it is said that this episode takes place during Hooty's birthday.

It is also noted that King doesn't know his own birth date.

Amity mentions that Erica and Emira have been acting nicer to her to make up for the events of "Lost in Language".
When imprisoned by the Slitherbeast, neither Eda, Emira, nor Edric could perform magic. This strongly suggests that a witch must have free use of their hands and arms in order to cast spells.
Luz learns her second spell, the Ice Spell.
Memorable Quotes
"

I've got a new crush, and her name is education!

"
—"Luz"
"

Truly horrifying!

"
—"King"
"

Ahem. I don't think the Owl Lady wants to show us any of her powerful spells.

"
—"Amity"
Gallery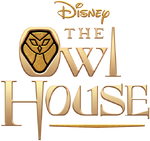 Click here to view the gallery.
Video
References
Community content is available under
CC-BY-SA
unless otherwise noted.