"Art Lessons with Luz" is the fourth animated short of the The Owl House short series, Owl Pellets. It premiered on April 25, 2020.
Synopsis
King is fascinated by Luz's drawings, but Hooty loses his cool when he can't tell the difference between a drawing and real life!
Plot
This short begins with King being curious about how Luz is able to draw well. Luz then proceeds to share some of her favorite drawing tricks. This includes breaking characters into simple shapes, which is demonstrated through outlines of King, Eda, and Hooty. Luz starts by drawing King's outline, then Eda's, and finally Hooty's. Luz mentions that Hooty is the easiest to draw as he is just a circle and a tube.
Right then, Hooty rolls in, and asks Luz and King what they are up to. Upon seeing Luz's drawing of himself, Hooty becomes shocked and gets aggressive, as he mistakes the drawing as another owl attempting to take his territory. King attempts to calm him down by saying that it's just a drawing, but in his blind rage, Hooty tears up the drawing Luz had created of him.
Later, Hooty is seen "sitting" on the couch and thanking Luz and King for calming him down, admitting that he can get a little territorial. However, he does not realize that he has been talking to drawings of them. King mentions that Hooty has been talking to those drawings for seven hours, to which Luz replies that the magic of good proportions is that they make things look real. Hooty then notices the real Luz and King hiding behind a doorframe. He becomes confused and starts freaking out, while Luz and King slowly retreat from the doorframe.
Cast
Title in other languages
| Language | Title | Translation | Notes |
| --- | --- | --- | --- |
| German | Kunstunterricht mit Luz | Art lessons with Luz | |
| Dutch | Kunstlessen met Luz | Art class with Luz | |
Transcript
For a full transcript of "Art Lessons with Luz", click here.
Gallery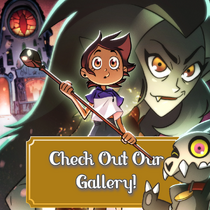 Click here to view the gallery.
Trivia
The YouTube compilation shows this as the second short.
References