Braxas is a young boy who has recurred in multiple episodes of the series. He is among the group of kids who attends storytime with Amity Blight at the Bonesborough Library.[1] He is Warden Wrath's son[2] and a member of Hexside's Baby Class.
Appearance
He is a short child with red skin and seems to be roughly preschool-age (as far as his race is concerned, that is). He has no facial parts besides a mouth with teeth showing. His teeth appear to resemble those of vampires, having regular human-like front and bottom middle teeth, and then fangs on the outside. He wears an outfit similar to that of students at Hexside, except his hood is up and pointed at the end.
Background
— This section is currently incomplete. —
More details can be added to expand it.
Please help The Owl House Wiki by making this section longer.
Sightings
Foreign voice actors
| Language version | Actors | Notes |
| --- | --- | --- |
| German | Martin Schülke | |
| Polish | Jacek Król | |
Gallery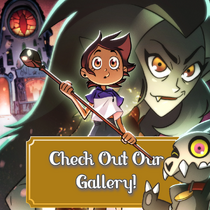 Click here to view the gallery.
Trivia
References