— This article is a
stub
. —
Cat[1] is a female witch that attends Hexside School of Magic and Demonics under the Healing track. She is also part of Boscha's friend group.
Appearance
Cat has dark skin and brown wavy hair with a side bang, and like all witches, she has pointed ears. She wears squared glasses with black frames over her brown eyes and has red lipstick on her lower lip. She wears the regular Hexside uniform with blue sleeves and leggings and black clog-styled shoes.
Background
Cat appeared as one of the four girls trying to animate a stuffed animal in Amity's house during the Moonlight Conjuring.[2]
She is seen going out with the pufferfish student during Grom.[3]
Cat is seen with Boscha's girl posse and later on expressing concern when Boscha actively tries to harm Luz. It was here she also shows her respect for Luz and Willow, as shown where she congratulated Luz for playing grudgby for the first time and offered Willow a spot on the grudgby team.[4]
Sightings
Behind the scenes
Name and basis
Her name and design are based on the storyboard artist, Catherine Harman-Mitchell.[1]
Voice
Cat is voiced by Grey DeLisle.
Gallery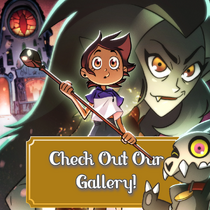 Click here to view the gallery.


To view the various designs of Cat, click here.
Trivia
References
↑ 1.0 1.1 Drawing Cartoons to Save Democracy (September 16, 2020). Archived from the original on September 17, 2020.
↑ Dana Terrace, Rachel Vine, John Bailey Owen, Charley Feldman, Jeff Trammell (writers) and Stu Livingston (director) (February 21, 2020). "Hooty's Moving Hassle". The Owl House. Season 1. Episode 6. Disney Channel.
↑ Molly Ostertag (writer) and Stu Livingston (director) (August 8, 2020). "Enchanting Grom Fright". The Owl House. Season 1. Episode 16. Disney Channel.
↑ Rachel Vine, Molly Ostertag (writers) and Sabrina Cotugno (director) (August 15, 2020). "Wing It Like Witches". The Owl House. Season 1. Episode 17. Disney Channel.