Jurassic World: Dominion Dominates Fandom Wikis - The Loop
Play Sound
"Follies at the Coven Day Parade" is the eleventh episode of the second season of The Owl House, and the thirtieth episode overall.
It premiered on March 19, 2022.[1][2]
Synopsis
In the aftermath of her trip home, Luz takes on daring rescue missions during the Coven Day Parade.[1]
Plot
At some point in time after returning to the Demon Realm since meeting her mother, Luz decides to record a video for her. Knowing that Camila doesn't want her to stay in the Demon Realm, Luz tries to find a middle ground between them. She goes around filming stuff, trying to convince Camila that the Demon Realm is a wonderful place with magic and beauty. However, she ends up recording a skinless skeletal Hooty hanging out his skin to dry, herself accidentally blinding Boscha with a light glyph and causing her to threaten to burn Luz's eyes off, and Principal Bump throwing a trouble-making student into the newly restored detention pit. Dejected, Luz decides to stop filming.
Later in the day, Luz sits outside at the school's staircase with Gus and Willow. Gus and Willow are trying to figure out the reason why Emperor Belos is hiding his face behind a mask. Gus turns around and finds Luz staring at her phone, so he calls out her name, which startles her. He asks Luz what Belos looks like underneath his mask as she had seen him up close, to which she admits that she never actually got a good look at his face. Right then, Amity appears beside Luz and mentions that she heard Belos' face is scarred from wild magic. Her sudden appearance surprises Luz and causes her to fall backwards. Amity helps Luz up and calls her a "batata", which is "sweet potato" in Spanish, and she reveals that she had been learning human language from a book she had gotten from Gus. Luz is flattered by Amity's endearing words and calls her a sweet potato as well, and Amity then proceeds to ask Luz about the Titan's Blood, making Gus and Willow follow up with questions about the portal and whether or not Luz met her mother. Luz nervously recalls the moment when she had to promise her mom that she will stay in the Human Realm once she goes back, and she lies to the trio that she hasn't used the portal yet and is still waiting for a good moment to do so. Right then, Eda and King arrive in front of the quartet on the Owl Staff. Luz bids her friends goodbye and kisses Amity on the cheek, causing her to blush. After riding off together with Eda and King, Amity notices that Luz has left her phone behind.
Luz, Eda and King arrive at the marketplace in Bonesborough. Luz notices a lot of Coven Scouts around and wonders what's going on, to which King explains that they are probably preparing for the annual Coven Day Parade. Eda scoffs, as she thinks it's merely a way to please Belos. Eda and King then head over to a stall to pick something up, and before following them, Luz notices Kikimora talking to her mother over her phone. Kikimora is upset that her mother is forcing her to choose between coming back home or leading the Coven Day Parade, not knowing how to, and Luz then catches up with Eda and King, who reveals that Eda had hired someone to spy on her ex, Raine Whispers. Eda becomes embarrassed that her diary had been read by King while he proceeds to spill more beans about Raine. She eventually snaps and admits Raine's rebellion and their capture by Belos. Luz is overwhelmed by all the new information and then slumps to the ground.
After that, Luz reads more information about Raine from a file just received by Eda and becomes touched by their story, saying that it's just like one of the events in The Good Witch Azura. Eda takes back the file and reveals that, according to the information inside, Raine is still working for the Emperor's Coven, which doesn't make sense, as they betrayed Emperor Belos. In order to save Raine, Eda thinks that they will need help from someone inside the Emperor's Coven. Right then, Luz notices Kikimora nearby, and hints at her to ask her for help. Eda is displeased at the idea, but still lets Luz go up to console her. After hearing about Kikimora's problem, Luz suggests to her that they can help each other out. Eda immediately grabs Luz up by her cowl and calls her crazy, reminding her about the times when Kikimora tried to harm her, herself, and Amity. However, Luz is of the opinion that this is worth the risk in order to save Raine. Eventually, Eda reluctantly agrees to it, and Luz reveals her plan to solve both their problems: by kidnapping Kikimora, which surprises everyone.
On the day of parade, at morning, Eda, Luz, Hooty and King go around town gathering the ingredients they need for the plan. Once they gather everything, Luz goes through her plan one more time: King and Hooty will be piloting a float through the parade. At the halfway point, they will set off all the glyphs, potions, and fireworks to serve as a distraction. When Kikimora sends out the scouts to investigate, Eda and Luz will obscure the scene with smoke and rescue Raine. As Eda, King and Hooty are talking, Luz notices that her phone is missing, but thinks that she probably left it back at the Owl House.
At Willow's house, Willow is working out on the balcony when she hears someone knocking on her room's door. She opens it, and is surprised to find Amity outside. Amity confesses that she thinks Luz is lying about her trip to the Human Realm, holding her girlfriend's phone, but she adds that she doesn't want to invade Luz's privacy by watching the video she has recorded. Willow agrees to give Amity some advice on this, but wants her to braid her hair first. Amity agrees, and while braiding, confesses that she is glad her and Willow can be on good terms again. Willow doesn't reply back and only smiles wanly.
At the Bonesborough town square, Kikimora is nervous that she has agreed to participate in Luz's plan. She is so lost in her own thoughts that she doesn't even notice Raine beside her. While talking to Raine, Kikimora notices that they appear to be calmer compared to before. Right then, the head of the Plant Coven, Terra Snapdragon, appears, and reveals that she has done something to Raine to change their personality. Raine reveals that Terra has been helping them to recover in the past month, but they can't remember anything due to headaches. Terra then proceeds to let Raine drink some spiked tea, and reminds them what to do during the parade. Kikimora is worried that she will ruin her plan and tries to call Eda, but Terra appears before her before she can do so and forces Kikimora to join the parade with her.
At sundown, the parade begins. Floats slowly roll through the streets while the residents of Bonesborough cheer on. Meanwhile, Luz, Eda, King and Hooty are getting ready to carry out their plan. Luz and Eda wait on the roof, while Hooty and King control a float with a Belos effigy on it and blend in with other floats. At around seven, everyone proceeds to play out their part. Luz and Eda jump off the roof and use invisibility glyphs to get near Kikimora's float whilst King and Hooty set off the fireworks to distract people. After Kikimora sends off the Coven Scouts to investigate the ruckus, Eda and Luz proceed to use a smoke glyph combo to set off a thick mist. Luz scoops up Kikimora, and before Raine can attack her, Eda wraps them up with vines and carries them away, splitting up with Luz. Luz uses another invisibility spell to disappear in front of everyone and escape, unaware that Amity's trailing behind her while cloaked. Right then, King suddenly realizes that he and Hooty don't have an escape plan. To solve that, Hooty proceeds to bend his body to become a makeshift leg for their effigy and jumps away, with the Coven Scouts chasing after them. He then jumps down the town streets while making funny remarks, and at one point, chooses to turn around and chase after the Coven Scouts while attacking them.
Eda manages to bring Raine to an alley, and hugs them while remarking that she is glad they are okay. Raine pushes her away and asks Eda what she is doing here, to which she replies that she is trying to make sure they're okay after their fight with Darius and Eberwolf. To Eda's bewilderment, Raine doesn't remember any of that even though it only happened a few weeks ago. Coldly, they remark that they have joined the Emperor's Coven now and can't associate with wild witches anymore. Raine orders Eda to move aside, but she refuses, saying that she is not leaving until she can get through to them. Angered by this, Raine proceeds to attack Eda in order to make her leave. Eda manages to dodge their attack and eventually stops them before they can attack further. At that moment, Eda tries to jolt Raine's memories by making them listen to the song the two played together while attacking Darius and Eberwolf. Unfortunately, that doesn't work and only angers Raine even more. They proceed to not hold back and attack Eda directly, sending her flying backwards. Raine decides to give her one last chance to go away for old time's sake, but she still refuses. Right as Raine is about to attack her again, they both hear Coven Scouts coming their way. Raine hands over Eda's invisibility glyph to her, and asks her to not contact them anymore, as they are now working for Emperor Belos. Eda reluctantly activates the glyph and leaves, and after secretly shedding a tear, Raine decides to head back to the parade with the Coven Scouts.
Meanwhile, Luz and Kikimora escape away from the parade into town. Kikimora is nervous that they are no longer invisible and insists that they have to be, or else "she" would end them. Luz asks who is Kikimora referring to, right as Terra's vines burst through the ground behind them. Startled by this, the duo hide behind a wheelbarrow, just in time to see Terra rise up from the ground in front of them. She pretends to not know where the duo is hiding and talks to herself, wondering where did Kikimora go. Luz activates an invisibility glyph and tries to get away, while Terra remarks that it's a shame a valued coven member like Kikimora would disappear right before her promotion, which shocks her. Terra then tries to attack the duo with a vine, but it is held back by an abomination. While Terra is distracted, Luz and Kikimora turn and run away. Amity then runs up to catch up with the duo, much to Luz's surprise, and she asks how her girlfriend knew about her plan. Amity recites a paragraph from The Good Witch Azura 5, which tells a story similar to Luz's plan. Amity then spawns a skateboard made with abomination material and escapes together with Luz and Kikimora.
Eventually, the trio arrive at the pier, where Kikimora's hand dragon is waiting. As soon as Kikimora gets on her hand dragon, she turns on Luz and Amity, and says that the promotion mentioned by Terra is much more attractive compared to going back home. Amity reminds her that Terra could be lying, but Kikimora remarks that it's a risk she's willing to take, feeling ready to hand over Luz and Amity to Belos. The duo then proceed to fight together against Kikimora and her hand dragon, and eventually, they manage to get an upper hand against Kikimora. Before the hand dragon can finish Luz and Amity off, Terra uses her vines to tie it and Kikimora up, and appears from below the water. Kikimora is surprised at Terra's appearance, as she should be watching over Raine, but she reveals that she is actually there to watch over Kikimora. As it turns out, the promotion actually is real, and all Kikimora had to do was to prove her dedication to the coven. She eagerly asks if she passed, to which Terra replies that she unfortunately did, and she gets to live for now. Before bringing her back to the parade, Terra turns around and tells Luz that Emperor Belos is looking forward to meeting her, then disappears altogether.
Luz thanks Amity for saving her and asks how can she repay her; in response, Amity takes out Luz's phone and asks her to tell her about the video. She assures her girlfriend that she hasn't watched the video, but still knows about what really happened to her regarding the portal and her meeting with her mother. Luz eventually confesses that she feels hopeless about her situation, and thought that if she helped out Kikimora, maybe there would be hope for her. Amity asks Luz to tell her what happened back then, and she proceeds to do so as the duo walk back to the parade.
Hooty and King eventually abandoned their effigy and sneak away in a cloak, both laughing. Later, the duo gather together with Eda, Luz, and Amity on a roof as they watch on the parade. Near the end, Kikimora announces that this year's parade will be extra special, as Emperor Belos himself would be giving an announcement. Belos then appears in the form of a hologram on stage at multiple towns to give a speech. In the speech, he announces that the Day of Unity will be in exactly one month, when the tide is at its lowest and the moon obscures the sun. At that time, everyone will journey to the head of the Boiling Isles, and those who are worthy shall inherit a utopia free of wild magic. Before ending his speech, Belos decides to take off his mask, revealing his face to the residents of the Boiling Isles, and is cheered on by them. Amity is worried about Belos' plan and asks Luz what would happen to her, to which Luz replies that she isn't sure, but for now, she and Amity will take things one day at a time.
Cast
Additional voices
Non-speaking cameo
Other characters
Title in other languages
| Language | Title | Translation | Notes |
| --- | --- | --- | --- |
| Mandarin | 巫會節大遊行 | A Big Parade in the Coven Festival | |
| German | Unsinn auf der Zirkel-Parade | Nonsense on the coven parade | |
| Italian | Follie alla parata della festa delle congreghe | Follies at Coven Celebration Day Parade | In Italian the word "festa" litteally means party but it's also used to indicate a festival or a celebration. |
| Portuguese | Aventuras no Desfile do Dia do Coven | Adventures at the Coven Day Parade | |
Transcript
For a full transcript of "Follies at the Coven Day Parade", click here.
Gallery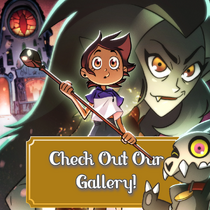 Click here to view the gallery.
Trivia
Viewership: This episode was watched by 0.28 viewers on its premiere.[3]
When Luz freaks out after Amity sneaks up on her and pulls her back up, it mirrors the scene where Amity freaks out when Luz got too close to her in "Wing It Like Witches".
Edric was previously seen without Emira after a cameo in "Young Blood, Old Souls", but this is also the first time he has a speaking role without her.
This is the first time Hooty is seen entering Bonesborough in the series.
The Plant Coven Head Witch, Terra Snapdragon, makes her speaking debut.
The secret message, located on the right side of the main entrance of Hexside, translates to "Kings".
When Luz reads Eda's file about Raine, "Raine's Rhapsody" is heard playing on the background through a cassette. The cassette is later seen again when Eda plays the same song to a seemingly amnesiac Raine to make them remember.
Revelations and significant events
Hooty is seen taking off his skin for the first time in the series.
Amity has learned to speak Spanish through a cookbook Gus gave to her, and greeted Luz with "Hola, batata" ("Hello, sweet potato").
Luz kisses Amity on the cheek for the first time.
There is an annual event on the Boiling Isles called the Coven Day Parade, an event that Eda, a proud wild witch, holds in absolute contempt.
Kikimora has family members, including a mother who lives in Palm Stings.
It is revealed that Kikimora's position within the Emperor's Coven has been very shaky after many failed missions, with her being only one failure away from being executed. She regains a more stable position after proving her dedication to the Emperor.
Eda hired someone to spy on Raine for years.
Eda has a habit of writing diaries that King secretly reads.
Amity visits Willow alone for the first time in years.
Raine doesn't remember anything about the Bards Against the Throne nor their reunion with Eda in "Eda's Requiem", as they were subjected to some kind of brainwashing maintained by a tea made by Terra.
Principal Bump has been keeping Kikimora's hand dragon at his place after the events of "Hunting Palismen".
Kikimora gets her dragon back.

Her dragon is revealed to be a female.

Near the end, Luz tells Amity about what happened between her and her mother.
Emperor Belos announces at the end of the episode that the Day of Unity is exactly one month away.

Belos also reveals his face to all the Boiling Isles.

Lilith is seen wearing a new outfit and has started using glasses for the first time since her adolescence.
The glyph combo for invisibility is revealed.
Edric develops, produces, and sells likely illegal fireworks as a street vendor (just like in the cliché of the shady street vendor with a trench coat full of fake watches). He sold some rockets to King for his part of Luz and Eda's abduction plan. Because of accidents with the fireworks, he had to be sent to the Healing Coven eleven times as of now.
Terra claims that Emperor Belos is looking forward to meeting Luz again.
Continuity
The detention pit in Hexside has been restored after being destroyed by Luz and Gus in "Something Ventured, Someone Framed".
The events of "Young Blood, Old Souls", "Hunting Palismen", "Eda's Requiem", "Eclipse Lake", and "Yesterday's Lie" are mentioned.

Flashbacks from "Yesterday's Lie" are also shown.

The picture of young Eda and Raine from "Wing It Like Witches" reappears in Eda's folder of Raine related things, with Raine's face finally being shown.
A man with distorted facial features from "Once Upon a Swap" can be seen among the audience.
King still does bread puns after "Really Small Problems".
The King watch from "Enchanting Grom Fright" appears again.
The episode takes place a few weeks after "Eda's Requiem".
Videos
References