"
Hexside, where the magic of friendship... is no longer taught here due to budget constraints.
"
Hexside School of Magic and Demonics is a magical school in The Owl House. It is one of the Boiling Isles' local schools for witches, demons, and magic folk. The school is located on the west side of the Boiling Isles.[1]
The standard school uniform is a gray tunic with a dark gray belt, cowl, and boots.[2] The color of the sleeves and leggings depends on which track a student belongs to.[3]
Background
Hexside was founded and built on the bones of its rival, Glandus High, when it was conquered by Bump and other students.[4] Hexside is funded by Emperor Belos and the Emperor's Coven.[3]
Though currently unconfirmed, it is suggested that attendance to schools like Hexside is a requirement, due to the system in place. Hexside teaches witches from a young age up until adolescence, and as such includes a kindergarten section of the school for younger witches.[5]
Incoming students must take a placement exam to determine their academic level at Hexside. Students who have yet to master basic runes and a minimum of two spells are placed in the school's kindergarten, or "baby class".[4]
Subjects
Being a school of magic, multiple subjects are taught here at Hexside for multiple grades. Those just starting are often taught the basic essentials, such as learning how to read and write runes, while those higher up learn more complex topics such as the "heximal system".
As Bump recalls, the school once used a "Choosy Hat" to determine which track a new admission would follow, though this practice was suspended after the hat attacked a student. The relic was subsequently restrained and kept on the campus, though it occasionally escapes.[3]
Along with standard classes, Hexside also has classes exclusive to covens, due to covens being a requirement to join by law. These classes are typically limited to the 'main nine' covens: Bard, Beast Keeping, Potions, Plants, Illusions, Healing, Oracle, Abominations, and Construction.[2][6] Students in kindergarten are coven-less, thus they do not take coven classes until they are older. When the time comes for a student to be placed in a coven, an annual Covention is held at the town center to introduce students to all the types of covens to help them decide on which to join.[7]
Extracurriculars
Hexside maintains an athletic field for the sport of Grudgby. There are also gym classes; one activity being "the Game", which is similar to basketball, but requires throwing members of the opposing team through the nets. Like typical schools, it has extracurricular activities and clubs, such as the Human Appreciation Society, which Gus and Mattholomule attend.[6] Luz has discussed with Amity the idea of starting a book club called the "Azura Club" as well.[4] Later, at the Club Fair, The Good Witch Azura club has been formed.[8]
Discipline
If a student is causing trouble at school, guards who can smell trouble hook them away to a detention room, where students are encased in blue cocoons surrounded by giant worm creatures to put them in a trance until they learn/hypnotized to behave.[6]
Troublemakers are put in the Detention Track, where they aren't allowed to use magic; Bump implies this is due to the fact that the aforementioned detention room "still needs repairs". Unbeknownst to most of the faculty, the room where this track is held has secret access to the Secret Room of Shortcuts, which in turn has access to the entire school, enabling inmates to secretly listen in on every class in the school. The room was built by "Lord Calamity", who is revealed to be Eda herself.[3]
Bump also threatened to feed Luz to the Choosy Hat for causing trouble, though this was likely in jest.
Notable staff and students
Staff
Students
Former Students
Former Staff
Sightings
Gallery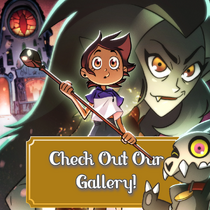 Click here to view the gallery.
Trivia
References