Jurassic World: Dominion Dominates Fandom Wikis - The Loop
Play Sound
"Labyrinth Runners" is the eighteenth episode of the second season of The Owl House, and the thirty-seventh episode overall.
It premiered on May 7, 2022.
Synopsis
When the Emperor's coven comes to Hexside, Gus teams up with an unlikely ally.[2]
Plot
After Gus skips forward two grades, he puts together a project with his new friend, but becomes distraught when he learns his "friend" was using him to do all the work so that he got a good grade. He runs to an empty classroom, where he projects a large-scale illusion in which his fake friend and another student taunt him. It is interrupted by a talking abomination, and Gus then meets the girl controlling it. She shows him a breathing exercise her fathers showed her, and Gus calms down, making the illusion disappear. The girl introduces herself as Willow, and Gus introduces himself in turn. The two become best friends.
In the present, Principal Bump is expressing his surprise that the students are enthusiastic about learning through taking on multiple tracks to the illusion teacher when a cloaked figure enters the room. At lunch, Gus, Willow, and Amity talk about their concerns for Luz as Willow reveals that the Owl House is surrounded by Coven Scouts. As Gus goes to throw his lunch away, he sees Flapjack and follows him to the auditorium, where he finds Hunter and realizes he has been camping out in the school. Hunter, embarrassed, refuses to go into detail, but just then, Bump calls everyone to the gym.
Once everyone is gathered, Bump reveals they have a visitor, Adrian Graye Vernworth, the head of the Illusion Coven. He tells the students that Belos has decreed all students must be placed in a coven by the Day of Unity, startling the students, but Adrian says he will give them fake temporary coven sigils as protection. He brings up Edric Blight to demonstrate, but suddenly, Gus realizes that he is trying to brand them for real and breaks the illusion. Adrian then reveals dozens of scouts, and after criticizing them, tries to brand Gus with an abomination sigil. Overwhelmed with panic, Gus unintentionally creates a shifting illusion of various locations around the Boiling Isles that covers the school. The students flee, and Hunter arrives, rescuing Gus and taking him away from the scene.
As Amity and Willow run from the scouts, Willow tries to fight them off, but Amity keeps getting in her way, much to her frustration. They find out everyone else is in the healing homeroom and head there. Meanwhile, Gus tries to ask Hunter why he is camping in the school, and the former Golden Guard is shocked to learn that Luz hasn't been accounted for, nor has she contacted her friends. They run into Coven Scouts, who tell Hunter that Belos is looking for him, deeply frightening him. The boys fight them off and hide in a classroom. Hunter starts to hyperventilate and go through a panic attack now that the Emperor's Coven knows his whereabouts, but Gus shows him the breathing exercise Willow taught him when he was younger, helping him settle down, and he explains that he used to think people had an ulterior motive before meeting Willow, Luz, and the others.
Meanwhile, Amity and Willow duel more guards, but Amity messes up things for Willow, upsetting her. She insists that she just got her back and deserves to protect her, but Willow makes it clear that she wants to be seen for who she is now, shaking off a guard. Now seeing her mistake, Amity relents. Meanwhile, Hunter and Gus run into Willow, and while Gus is relieved to see her, Hunter realizes that she is a fake, as she is acting scared of him when she wasn't before. Adrian then dispels the illusion, and after revealing himself, takes Gus as Hunter is put to sleep by a Coven Scout. When he wakes up, he finds himself in the healing homeroom, and he blurts out that Adrian has captured Gus. Initially, the students, Bump, and the illusion teacher refuse to believe him, but when he mentions the breathing technique, Willow confirms that he is not lying. Bump rallies the Hexside students, and Willow finally allows Amity to help fight alongside her now that she understands that she is powerful. At the Looking Glass Ruins illusion (later revealed to be in the gym), Adrian attempts to use Gus' memories as a means to obtain the galdorstones; however, the spell backfires and inadvertently traps Adrian, along with two other guards, in their worst nightmares. This also ends up dispelling the labyrinth illusion. Outside the gym, Bump and the students fight the guards barricading it, and Willow and Amity are forced to fight an improved Abomaton and rekindle a part of their friendship; Hunter enters the gym and sees Gus encasing his enemies in their worst nightmares. Breaking through the illusion, Hunter calms him, and the labyrinth-like spell finally dispels completely. Willow reunites with Gus, and the two share a hug with Hunter.
The Emperor's Coven leaves, with Adrian being carried away, as he has been too traumatized by the spell to move. Principal Bump declares that he's sure Belos will be thrilled to learn that one of his Coven Heads was defeated by a couple of teenagers. In addition, Severine, a Coven Scout, is so fed up with the pressure and abuse within the Emperor's Coven that she quits her job in rage, making the whole school cheer. Amity congratulates Gus on taking down a Coven Head, with Gus noting that he almost went down with him. Everyone at Hexside then starts asking Hunter about the Day of Unity, and, as there is a lot to explain, Bump urges him to get started.
Cast
Additional voices
Non-speaking cameo
Mentioned
Other characters
Transcript
For a full transcript of "Labyrinth Runners", click here.
Gallery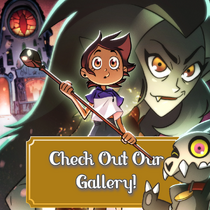 Click here to view the gallery.
Trivia
Viewership: This episode was watched by 0.27 viewers on its premiere.[3]
This is the first episode where Luz does not physically appear, making this the first episode where the main cast do not appear at all.

Henceforth, every single character from the show has been absent physically for at least one episode.
Luz does, however, get mentioned by Amity and appears in one of Gus' memories of pictures with him and Willow.
Additionally, Luz is the only multi-track student who doesn't appear.

The Illusion Coven Head Witch, Adrian Graye Vernworth, makes his speaking debut.
The secret code appears when Gus and Hunter run into the illusion wall. When translated, it says "Below".
This marks the first time since "Something Ventured, Someone Framed" where Skara performs any sort of magic onscreen, and the first time overall where Cat does so.
Boscha and Amelia only appear during the gym scene and disappear for the rest of the episode after the illusion is cast.
This episode was later uploaded to YouTube on May 30, 2022,[5] making this the fourth episode (following "A Lying Witch and a Warden", "Separate Tides" and "Eclipse Lake") to later be uploaded in full to YouTube.
Revelations and significant events
Gus and Willow met each other while they were both hiding in a classroom, and she taught him how to alleviate the symptoms of a panic attack.
Several students have transferred to multi-track and joined additional tracks alongside their original track:
The photo class teacher is in the Illusion Coven.
Luz has been sending messages to tell Amity what happened to her, although they are vague at best.
Amity continues to underestimate Willow's true capabilities, much to her annoyance. However, Amity realizes and accepts her true capabilities after seeing her in action.
Hunter was forced into hiding after discovering the truth about Belos and his plans, and has been hiding in the closed Hexside theater called "Paranoratorium" (an amalgam of "paranormal" and "oratorium").

He had to subsist on Hex Mix and food Flapjack brought from the school's garbage cans.
Among the possessions in Hunter's hideout are books about Grimwalkers titled Grimwalkers Extinction, The Legend of Grimwalkers, and Grim Walkers, implying he has been researching about his origins.
He hadn't had the opportunity to take a shower while hiding in the theater, implying that a few days have passed from how Gus reacts to him.

The name of the Illusion Coven Head Witch is revealed to be Adrian Graye.

Based on the closing credits, his full name appears to be Adrian Graye Vernworth.
He also appears to be on Emperor Belos' side.

Belos has decreed that all young witches must be placed in a coven before the Day of Unity.
Two more Coven Scouts have their name revealed: Tom and Severine.

Severine quits by the end of the episode to return to the Tiny Cat Coven.

Gus has the ability to conjure a massive memory illusion that makes others live through their worst memories, which Adrian states is a powerful magic.

His eyes would also glow blue when this happens. The glowing eye can see through an illusion.

Belos has ordered his Coven Scouts to track down Hunter.
Belos is unaware of the location of the Looking Glass Graveyard.
Principal Bump leads his entire school of teachers and students to resist the Emperor's Coven.
At the end of the episode, Hunter reveals the truth behind the Day of Unity to the Hexside faculty and students.
Continuity
Allusions
The Thing - One of the posters seen in Gus' room is similar to the poster of the movie.
Sailor Moon - When Amity and Willow were about to fight off one of the scouts, they do one of Sailor Moon's poses from the titular anime.
The Maze Runner - The episode's title is a play on the name of the sci-fi novel The Maze Runner.
Videos
References