"Paint Scare!" is the third animated short of the The Owl House short series, Owl Pellets. It premiered on April 18, 2020.
Synopsis
Luz and King head off to the woods to paint scenic nature! But they can't seem to escape a dark mysterious figure in their painting!
Plot
Luz and King are outside painting in the forest. Luz mentions that when she first got here, she thought everything was scary, stinky, or both. But now, she has learned to see the beauty in everything by getting outside and painting in nature.
King climbs up Luz's shoulder, and notices a strange black figure in Luz's painting. He asks her who the figure is, to which she replies that it's just some bushes that looked like a dark, mysterious figure. Luz moves her painting to confirm it, but there isn't any figure in front of them. She finds it strange, but ignores it and decides to continue painting. However, they both notice the black figure in the drawing has changed, and it's getting closer to them. Luz gasps and become scared. She and King peer over her painting, but still didn't see anything. Luz starts sweating nervously, saying that sometimes her imagination gets away from her, and she should only draw what she sees. As Luz stares ahead and continue drawing, King notices something on the drawing and becomes frightened. He calls out to Luz, and they both notice the black figure in the drawing has once again changed; it is now holding a sign saying "I'M BEHIND YOU". Right then, a dark shadow emerges from behind them and starts growling. They turn around, see the dark figure, and scream.
The scene then changes to Luz and King hiding under a blanket. Luz lights up the interior using a light glyph, which shows both her and King trembling with fear. She then says that sometimes one can find beauty and grow as an artist from the safety of their own bed, as she starts drawing on a notepad. The scene then changes again, showing that the duo are hiding inside Luz's room and the window is boarded up. The scene once again changes, revealing that the dark figure from before has painted this scene on a canvas. The figure agrees with what Luz said, and continues with his painting.
Cast
Title in other languages
| Language | Title | Translation | Notes |
| --- | --- | --- | --- |
| German | Paint Scare! | | |
| Dutch | Verf schrikken! | Paint scare! | |
Transcript
For a full transcript of "Paint Scare!", click here.
Gallery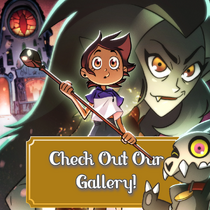 Click here to view the gallery.
References