"Sense and Insensitivity" is the eleventh episode in the first season of The Owl House.[2]
Synopsis
When King becomes a bestselling author, he learns a valuable lesson in reading the fine print.[3]
Plot
For a full plot of "Sense and Insensitivity", click here.
Transcript
For a full transcript of "Sense and Insensitivity", click here.
Cast
Additional voices
Title in other languages
| Language | Title | Translation |
| --- | --- | --- |
| French | Auteur à succès | Successful author |
| Vietnamese | Cuộc Thi Viết Sách | Book writing competition |
Allusions
Sense and Sensibility: The title is a play on the first book written by Jane Austen.
Gravity Falls: King's stated desire for a people chair references Bill Cipher's Throne of Frozen Human Agony from the Weirdmageddon 3 (or 4 if you count Weirdmageddon 3: Take back the Falls as 2 episodes) part finale.
Read or Die: The bookstall Read or Die references the title of this manga and anime series.
Star Trek: Bob's book stall is called Trekking the Stars.
Star vs the Forces of Evil: Piniet's shrinking box references Toffee's shrinking crystal box from "Storm the Castle" with which he tortured Marco.
Save the Cat: Luz's list of story elements references Blake Snyder's essential volume on story structure.
Hero's Journey: Luz's circular diagram references this classic story archetype.
Nom de Plume: The author John De Plume references this phrase meaning pen name or pseudonym.
Errors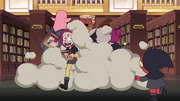 When the people throw and catch King, his scarf is black in the one frame instead of green.
When Eda is sitting on the couch, the frame of her right hair tuft disappears and its outline intersects with the couch.
In the scene where people are crowding at a King Ruler's Reach stand to get his book, Boscha appears in two different spots in the same scene.
Edits
The line "What the heck, man?" was cut during Southeast Asia broadcast.
Trivia
After the intro, while Eda is walking around and knocking down some books, there is a code revealed on an opened book on top of a bookshelf. This is the 11th code, which gets cracked into "EI" and translated into "A".
The Book Fair contained the following stalls:

Hot Romance
Half Moon Publishing
Even More Books
Read or Die
Trekking the Stars
The Reviewnicorn
Ghost Writers
Tragedy Section: Read 'Em and Weep
Books, Books & Books
Don't Judge by this Cover.

The Book Fair featured the following titles:

The Sword and the Stone and Me
Pulling a Faust One
The Magic Mirror
Realm Warrior
Ruler's Reach
Planetary Love
My Boyfriend from Tartarus.

It is revealed that books on the Boiling Isles aren't printed, they are forged.
This episode aired on the same day as the premiere of Amphibia season two.

Coincidentally, this episode of The Owl House and "Swamp and Sensibility", a second season episode of Amphibia, share similar titles because they both refer to the aforementioned Jane Austen's 1811 novel Sense and Sensibility.[4]

Although this episode premiered in 2020, it was produced in 2019, according to the credits.
Contracts on the Boiling Isles are enforced by magic and can be voided by destroying the original document.
Quotes
"

It reeks more of nerd than money today

"
—Eda
"

I know my good angle.

"
—Luz
"

Ugh, what are these basement dwellers doing in natural sunlight?

"
—King
"

Why don't you go home and rest- wouldn't want you breaking a hip.

"
—Lilith
"

You wanna touch my scarf? A fan crocheted it out of their own hair. It smells so bad!

"
—King
"

I can make you a star!

"
—Piniet
Gallery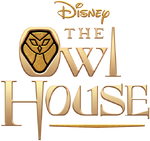 Click here to view the gallery.
Videos
References
Community content is available under
CC-BY-SA
unless otherwise noted.