Jurassic World: Dominion Dominates Fandom Wikis - The Loop
Play Sound
The Snaggleback is a character in The Owl House. He is a demon said to wander in the Boiling Isles' acid rainstorms.
Appearance
The Snaggleback is a pink-furred demon that appears to be an ape with yellow fangs and a teal tortoise shell with spikes on his back. The shell can be removed, as Eda regurgitated the shell and demon separately without significant harm on the Snaggleback. The Snaggleback mentions that he has a tail, although it is absent due to digestion while he was inside Eda's stomach.
Personality
Initially, it was believed the Snaggleback was a ferocious demon with an appetite for tourists and the most powerful demon on the Isles. Contrary to this description, the real Snaggleback is shy, skittish, and demure.
Background
The Snaggleback wandered into the Owl House during a boiling rainstorm. As Eda transformed into her cursed form at the same time, King and Luz mistake her for the Snaggleback. King finds the real Snaggleback hiding in the closet, but Eda then devours the Snaggleback and regurgitates the shell before turning her attention to King. After Eda returns to normal, she regurgitates the Snaggleback in an owl pellet, and Luz allows the demon to recuperate in the Owl House until the storm subsides. The Snaggleback also learns about his status from King's demon book but is disappointed to hear King's plans to edit that.[1]
During the covention, the Snaggleback appears in the audience of the Emperor's Coven theatre.[2]
The Snaggleback serves as a disco ball for Grom.[3]
Snaggleback Snaggleteeth are revealed to be part of the recipe to make scrying potions.[4]
Sightings
Behind the scenes
Voice
Snaggleback is voiced by Arin Hanson.
Foreign voice actors
Gallery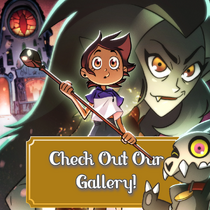 Click here to view the gallery.
References