Jurassic World: Dominion Dominates Fandom Wikis - The Loop
Play Sound
The Spell Circle is the most common form of magic utilization among witches on the Boiling Isles. This spell is the conduit to accessing all known spells.
Casting
To create a spell circle, a witch simply needs to draw a glowing circle in the air, from which the desired spell is cast. The size of the circle drawn determines the power of the spell; the larger the spell circle, the more powerful the spell. Some spells, such as certain illusion spells shown by Gus, require the circle to be repeatedly retraced, either to charge up the spell before casting or in order to maintain the spell. This is usually done with two hands so as to not break the circle and has been shown to be possible with multiple circles at once, such as three, and the fingers need not necessarily trace the active spell circle themselves, merely make repeated circular gestures in the air in front of the caster. However, this version of retracing circles appears to be rather difficult and requires great focus in maintaining, suggesting it is an advanced method.[1]
The circle can be drawn with a fingertip, a sweeping gesture of the hands, a tracing motion with the feet, a training wand, or the end of a witch's staff. A witch can also create additional spell circles from their existing active circle by doing a pulling apart gesture, which causes the active circle to briefly stretch before forming an exact copy.[2] Another method of casting multiple iterations of a spell is by creating a single spell circle, then slapping it with the palm of the hand. The witch then sweeps their hand, which creates multiple identical spell circles.[3]
It has been shown to be possible to create spell circles without needing to draw them, allowing for potent but simple spells to be cast by simply pointing and allowing a small spell circle to use the finger as its center or by allowing the circle to expand outwards from the fingertip to create larger spell circles.[4] Another method of non-drawing exists that allows for the creation of larger, stronger spell circles, which is performed by bringing two fingers close together without touching and then pulling the arms apart to allow the circle to expand between them as wide as can be reached - with the two fingers being on opposite sides of the now-formed circle.[5] It is also possible to only draw the spell circle partially through a trick where the witch draws part of a larger spell circle, then shrinking the circle while it is being drawn and causing the longer magic line to fill in the now-smaller circle.[6] It has also been shown to be possible to have the magic line of the spell circle to leak off its energy as it is being drawn or after in order for a second, slightly smaller spell circle to be made within it, creating a concentric spell circle drawn with two lines instead of one; this is an indication of potentially a powerful spell, such as those that are fatal to the target,[7] or already-powerful ones further enhanced by magic-amplifying items.[8]
Two and possibly more witches can cooperatively draw a single spell circle together.[9] Witches can also put the circle through an object or person for self-defense and can also use the circle as a bracelet around their wrists to allow repeated casting of a chosen spell of a certain strength.[10] Furthermore, a circle is not necessarily fixed in place in the air or on a object once drawn and can be moved with a gesture from the witch either to better aim a spell, to cast it on an object, or to spread the spell over an area. This is sometimes done by grabbing it or condensing it to a point or ball at the fingertips before aiming and expanding it elsewhere, enclosing the hand around it before throwing it into the air, or when using a spinning staff to draw to simply move the staff while it spins. In contrast, a spell circle may also be fixed in place, not in the air, but in relative position to the witch caster; a spell circle drawn in front of a witch running forward will remain steady and move forward at the same distance it was drawn.[11][10]
Likewise, their size is also not fixed when drawn, and a witch can either condense it or enlarge it to a different within only a couple seconds after being drawn before it is cast, seemingly without any additional gestures. One method of this that does use gestures is if a witch cannot draw a large enough spell circle due to their arm's reach, where they can increase the size of a drawn spell circle by putting the hands into the circle and pushing outwards, which will cause the spell to grow for as long as the witch can reach.[12] Another method of growing a circle is to draw two smaller circles, then place them near each when casting a spell, causing them to merger and form a larger circle performing a powerful spell.[13] Similarly, another method of creating a larger spell circle involves having a smaller spell circle active as a bracelet around the wrist, then slamming a hand onto the ground, causing a larger circle to quickly expand outwards around the user to cast a powerful spell,[10] possibly used as a method of making a pre-set spell in the bracelet more powerful without needing to redraw the circle at a greater size.
A spell circle requires magical energy in order to function. This means that the caster must either have their own supply of magical energy, such as the magic bile sac attached to a witch's heart, or the caster must be on the Boiling Isles or another magical place to directly access the fallen Titan's power in the air.
Although it is the case for almost all witches to require drawing a spell circle, there are very rare cases where a witch's magic in a particular area is so naturally strong that they can cast said magic without a spell circle. This is usually not consciously activated, but can be controlled with practice, and is done so in periods of great emotion like anger or stress, causing the witch's eyes to glow in a bright color that corresponds to their natural affinity, such as Willow with plant magic (green),[14] Gus with illusion magic (light blue),[7] or Alador with abomination magic (orchid).[13] This glow appears to have different levels of intensity, shown either to only cause the iris to glow[13], to have the whole eye glow but having the pupil and iris still be visible, having the whole eye glow but having the iris and pupil only appear as discs of white light, [7] or having the whole eye glow to where no pupil or iris is visible.[14] Such witches are usually considered prodigies in their fields.
Glyphs
While the spell circle appears empty, it was revealed by Luz's broken smartphone that there is a glyph within each circle — a specific glyph must be included within the circle in order to cast a specific spell.
According to "Adventures in the Elements", the Boiling Isles is full of magic glyphs hidden within nature (ex. the light glyph can be found in the stars, the plant glyph can be found inside flowers, and the ice glyph within snowflakes).
Performing glyph magic effectively requires that both the glyph is drawn accurately enough and that the caster know what they need the glyph to do when they activate it, else they will receive underwhelming and unintended results.[2] Glyphs are not only found in spell circles, but can also sometimes generate spell circles themselves when cast. It has been shown that this can be used in order to have a spell active not where the glyph was placed, but to a nearby location the caster wants the spell to be, such as when Luz used a plant glyph to make a tower of vines underneath her instead of where the glyph was placed in front of her, the glyph forming a spell circle connecting to it around Luz.[13]
Given that Amity, King, and Eda reacted with curiosity and wonder upon seeing Luz casting magic through glyphs, such practice had apparently become a lost knowledge sometime prior to her arrival in the Demon Realm, either forgotten or rendered obsolete in the light of the discovery of more efficient methods. One such method is through drawing power from the magic bile sac attached to a witch's heart, a method exclusive to witches and biped demons of Boiling Isles — without it, one must improvise by either actually drawing a picture of the glyph for the desired spell, or by using a training wand or similar device.
Since glyphs draw magic from the environment, they are ineffective in the Human Realm since there is no magic around to harness.
| | | |
| --- | --- | --- |
| Glyph | Function | Appearance |
| Light | When cast, it generates a floating sphere of white light. The intensity of the spell can be changed depending on the size of the glyph/spell circle. The light spell is considered a basic spell that can be cast at a very young age. | The light glyph is drawn with a large triangle in the circle with a smaller triangle and circle on top. Down the middle a long line with two smaller lines across, side by side within the large triangle. |
| Ice | When cast, it causes a pillar of ice to form. The diameter, speed of growth, and the height of the ice pillar depends on the size of the glyph. | The ice glyph is drawn with a large diamond with a line down the center, sat on another line across the bottom of the circle. Across the diamond is a curved line and sometimes a smaller diamond is included at the bottom. |
| Plant | When cast, flowers, and other types of plants or trees, sprout from the glyph. The plants can be any size, even towering over people. | The plant glyph resembles a flower. Drawn with an upside down triangle with a line across the bottom, resembling a flowerhead, connected to a line heading down to a circle at the bottom with a dot in the center. Two other lines stick out at the top of the circle, resembling leaves. |
| Fire | When cast, it conjures a ball of fire. If cast on the surface of an object, it will set that object on fire. | The fire glyph is drawn with a larger circle at the bottom of the spell circle with a dot in the center. On top is a smaller circle with a curved triangle on top. Another curved triangle is also included on top of the bigger circle which goes over the smaller circle. |
Variants
Combinations
In "Escaping Expulsion", Lilith discovers that by drawing a "glyph combo" by chaining glyphs in a certain order within a larger shape, it is possible to organize the commands over magic and thus achieve different specific effects. This runs counter to the incorrect method used by Eda of overlapping glyphs on top of each other, as this is the equivalent of giving different commands at once and causes the magic to be confused, resulting in the spell going wrong. Although the most common shape used to chain glyphs in a combo is a circle and its variants, Luz has shown that other shapes can used to create a glyph combo, as seen in "Once Upon a Swap" when she created a rectangle-shaped combo.
Combinations can be broken down into two groups: combos that use multiples of only a single glyph to achieve specific, specialized, or enhanced effects of their associated element; and combos that use multiple different types of glyphs to achieve new magical effects outside the capability of a single glyph type's element. There are currently two known examples of the former:
Circuit Glyph: A glyph combo for a light circuit used by Luz in "Once Upon a Swap", which has ten light glyphs placed in two rows of five, with straight lines connecting them into a rectangle. When cast, it creates an animated image similar to a neon light sign. Interestingly, the light glyphs seen on this combo are different from the ones usually drawn by Luz: the two parallel lines in the center, as well as the circle and lines at the top, are instead replaced with two diamond shapes. How this affects the resulting spell, or if it affects it at all, is unknown.
Sculpture Glyph: A glyph combo for an ice sculpture combo used by Lilith in "Escaping Expulsion", which usually has an ice glyph at the top of the circle, with another on the bottom. When cast, it creates ice sculptures based on the caster's will, such as creating ice popsicles, an ornate crown and jewelry, and a large-scale life-like model boat. Two other types of ice sculpture combos have also been seen: One with four ice glyphs on the corners of the circle, which has not been used, and another with a light glyph at the bottom instead of an ice glyph, which was used to create the ice popsicles.
Combo Layout

Glyphs

Snow

Light

Ice (x2)

Fire
The glyph combo for snow is a light glyph at the top of the circle, two ice glyphs on the left and right sides, and a fire glyph at the bottom. When cast, it creates snow. It can also command existing magic to become snow. First used by Lilith in "Escaping Expulsion".

Invisibility

Light (x2)

Ice (x2)
The glyph combo for invisibility is a light glyph in the center of the circle, another light glyph on the top left corner of the circle, and two ice glyphs on the bottom left and right corners. When cast, it can render anyone or anything it is placed on invisible. However, the invisibility spell only lasts for as long as the caster, not the person they used it on, holds their breath, even if the glyph is used on an inanimate object. First used by Luz in "Echoes of the Past".

Mist

Fire

Ice
The glyph combo for mist is a fire glyph on the left side of the circle, with an ice glyph on the right side. Occasionally, it is drawn with a smaller empty circle at the bottom to place an item in. When cast, it conjures up a thick mist. Additionally, by including pollen from sleeping nettle flowers, the combination will create a sleep-induced smoke. First used by Luz in "Hunting Palismen".

Teleportation

Ice (x5)

Plant (x8)

Fire (x8)
The glyph combo for a teleportation spell is a very complex combination of five ice glyphs, eight plant glyphs, and eight fire glyphs, with varying sizes and placed on multiple different rings. When cast, it teleports anyone and anything on it to another location. First used by Philip Wittebane in "Elsewhere and Elsewhen".

The first time it is shown, one of the fire glyphs is oriented diagonally, going down right instead of straight like other glyphs. The second time it is shown, however, the fire glyph is mostly straightened besides a slightly left tilt, but the central fire glyph has instead been turned upside-down. The reason for this has not been explained, though it can be inferred that this changes where the teleport leads to.

Safety Hover

Light

Ice

Fire
The safety hover was first discovered by Luz in "Reaching Out". It acts like a safety net for when someone is falling, making them hover for a couple seconds just before they hit the ground and then dropping them. The combination is a light glyph inside a larger circle between an ice and fire glyph.

Wind Spell

Light

Ice

Fire (x3)
One of four unfinished glyph combos drawn by Philip Wittebane; the following combination casts a powerful wind spell using a light glyph in the outer circle and an ice glyph in the center, surrounded by three fire glyphs.

Water Fountain

Ice (x3)

Fire
One of four unfinished glyph combos drawn by Philip Wittebane; the combination of three ice glyphs in the outer circle and a fire glyph in the center circle, connected by three curved lines that swirl into the center, creates a weak water fountain.

Petrification

Ice (x3)

Plant (x2)
One of four unfinished glyph combos drawn by Philip Wittebane; this glyph combination with three ice glyphs and two plant glyphs connected by one line can cast a petrification spell, turning anything or anyone to brittle stone that crumbles to dust soon after being touched.

Monster Summoning

Plant (x2)

Fire (x2)
One of four unfinished glyph combos drawn by Philip Wittebane; this glyph combo uses two plant glyphs and two fire glyphs to summon a hand of a murderous monster seemingly made out of a regenerative mud-like substance.
Circle Colors
The color of a given witch's spell circle is constant, except for members of the Emperor's Coven, whose spell circles are white.
Red

Head Librarian
Emperor Belos (doesn't need spell circles to cast magic)

Orange
Yellow
Lime
Green
Cyan
Blue
Purple
Magenta
White

Adegast (wizard form)
Detention monitor
Oracle teacher
Sightings
Gallery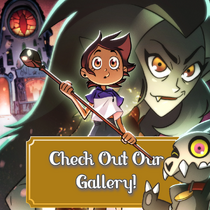 Click here to view the gallery.
Trivia
Spell circles appearing in The Owl House are part of a magic system trend that is popular in modern fantasy genre. Other shows and comic books that utilize spell circles, or floating incantations, include Fullmetal Alchemist, Fairy Tail, Garo, She-Ra: and The Princesses of Power, and The Dragon Prince. This recurring trend of magic needing the use of circles or a glyph originates from black magic practices of the Middle Ages and from alchemy of the late Renaissance period. A perfect circle was believed to be a universal symbol for balance and perfection in both mathematics and occult practices of those time periods.
Witches can still use their spell circles in the Human Realm, but not glyph, due to the absence of natural magic in the Human Realm compared to the Boiling Isles.
Certain glyphs are drawn with an outer circle, though they do not appear to require them to work.
Basilisks can absorb the magic of spell circles, though glyph magic is strangely harmful to them, especially with one of them getting harmed by glyph magic.
References