The Owl House is an American animated fantasy series, created by Dana Terrace. It premiered on January 10, 2020, on Disney Channel and also premiered on Disney XD later that same year.
On November 21, 2019, ahead of the series premiere, Disney Channel renewed the series for a second season.[1]
Premise
The Owl House follows Luz, a self-assured teenage girl who accidentally stumbles upon a portal to a magical world where she befriends a rebellious witch, Eda, and an adorably tiny warrior, King. Despite not having magical abilities, Luz pursues her dream of becoming a witch by serving as Eda's apprentice at the Owl House and ultimately finds a new family in an unlikely setting.
Production Information
On February 23, 2018, Disney Channel greenlit the series, alongside Amphibia.[2] The pilot was in development for six months between April to September 2017.[3] On Twitter, many of the production crew announced their involvement in the series. On March 22, 2018, supervising producer Stephen Sandoval announced production such as casting, designs, music, storyboards, and writing had begun.[4] On September 5, 2019, it was announced that Sarah-Nicole Robles, Wendie Malick, and Alex Hirsch, would be the main cast, as the voices of Luz, Eda, and King, respectively. That same day, it was announced that Tati Gabrielle, Issac Ryan Brown, Mae Whitman, Isabella Rossellini, Matthew Rhys, Eden Riegel, and Parvesh Cheena, would be part of the cast.[5]
Cast
Main
Recurring/Guest-Starring
Crew
Animators
Directors
Editors
Producers
Sound
Writers
Intern
Misc
Oversea animation studios
Casting Coordinator
International release
Country
Language
Channel
Premiere date
Title
Source
Canada
English
Disney Channel
January 12, 2020
The Owl House
Australia
March 4, 2020
Southeast Asia
English
March 20, 2020
Indonesian
Malay
Mandarin
Thai
Vietnamese
(subtitles)
Nhà Cú
Latin America
Spanish (Latin America)
April 4, 2020 (Sneak preview)
April 13, 2020 (Official)
La Casa Búho
Portuguese (Brazil)
A Casa Coruja
Turkey
Turkish
April 6, 2020
Baykuş Evi
[18]
Belgium
Dutch
April 11, 2020
Het Huis van de Uil
France
French
April 15, 2020
Luz à Osville
Switzerland
South Korea
Korean
May 23, 2020
아울 하우스
Israel
Hebrew
July 1, 2020
בית הינשוף
Hong Kong
Cantonese
July 16, 2020
奇幻貓頭鷹小屋
[19]
Taiwan
Mandarin
Japan
Japanese
July 23, 2020 (Sneak preview)
August 3, 2020 (Official)[20]
アウルハウス
[21]
United Kingdom
English
August 10, 2020
The Owl House
[22]
Malta
Netherlands
Dutch
August 24, 2020
Het Huis van de Uil
[23]
Germany
German
August 31, 2020
Willkommen Im Haus Der Eulen
[24]
Spain
Spanish (Spain)
October 3, 2020
Casa Búho
Romania
Romanian
January 2, 2021
Casa Bufnițelor
[25]
Poland
Polish
Disney XD
January 4, 2021
Sowi dom
Portugal
European Portuguese
Disney Channel
January 10, 2021
A Casa da Coruja
[1]
Awards and nominations
Gallery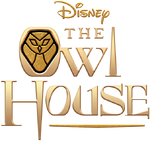 Click here to view the gallery.
Videos
Trivia
The series was originally scheduled to air in 2019, alongside Amphibia, but was delayed to 2020.
Dana Terrace originally considered The Owl House taking place in the afterlife after Luz had died.[30]
Dana Terrace was greatly influenced by The Hieronymus Bosch for the style of the show, and named Boscha and Principal Bump after him.
External Links
References
Community content is available under
CC-BY-SA
unless otherwise noted.